NOURISHING THE BEAUTY WITHIN
GENTLY APPLIED DAILY, KULISHA OIL HELPS SKIN LOOK YOUNG, SMOOTH, AND HEALTHY.  KULISHA OIL, IS OUR PROPRIETARY & POTENT BLEND OF AYURVEDIC HERBS AND OILS THAT IS INFUSED INTO ALL ADANA BEAUTY SKINCARE PRODUCTS. 
INTENTIONALLY FORMULATED TO HELP SKIN LOOK YOUNG AND HEALTHY + ADD RADIANCE TO THE SKIN +  REPAIR EARLY SIGNS OF AGING + DIMINISH THE APPEARANCE OF SCARS + BLEMISHES + PREVENT PIMPLES + WRINKLES. 
KULISHA MEANS, "TO NOURISH".  THIS TRIDOSHIC 'ABHYANA' BALANCES THE THREE BODILY HUMORS, OR DOSHAS - VATA, PITTA, AND KAPHA - HELPING TO REJUVENATE, RESTORE, AND NOURISH YOUR SKIN.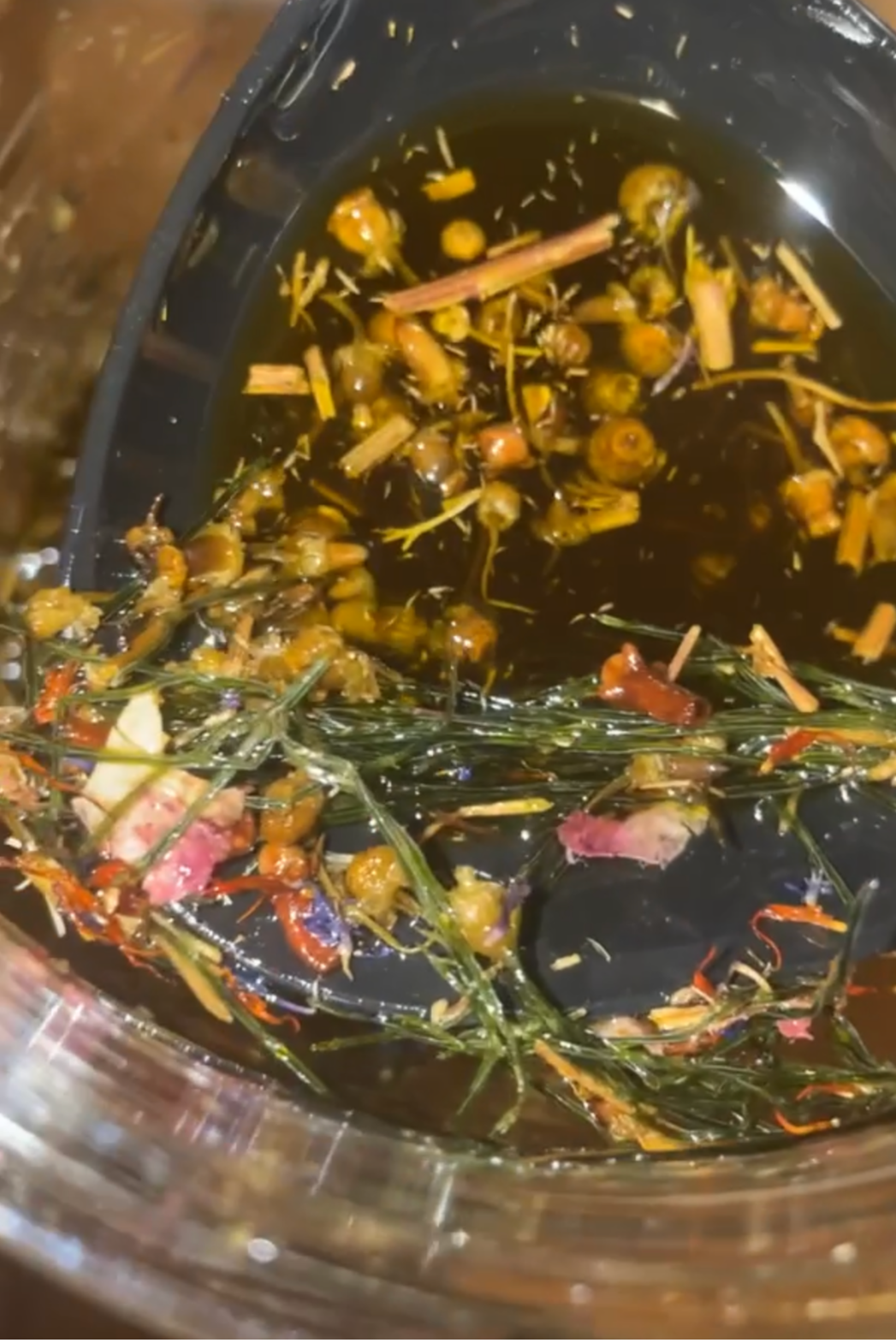 JUST A FEW OF THE AMAZING INGREDIENTS IN THIS BLEND, INCLUDE: 
SAFFRON: INCREASES SKIN CELL GROWTH + SOFTENS & BRIGHTENS SKIN + SERVES AS AN ANTIOXIDANT AND ANTI-INFLAMMATORY 
RED SANDALWOOD: NATURAL MOISTURIZER + COOLING & SOOTHING TO DRY, ITCHY, OR INFLAMED SKIN + EXFOLIANT + SOAKS UP EXCESS OILS & REDUCES SEBUM SECRETIONS LEAVING YOU OIL-FREE THROUGHOUT THE DAY + EVENS SKIN TONE + CLEARS UP ACNE + COMBATS PREMATURE AGING + NOURISHES THE SKIN BY REDUCING PIMPLES, ACNE MARKS, AND BLEMISHES
VETIVER: BOOSTS CELL REGENERATION + ENRICHED WITH ACTIVE CONSTITUENTS LIKE Α-VETIVONE, Β-VETIVONE, AND KHUSINOL +  PROTECTS THE SKIN FROM HARSH ENVIRONMENTAL CHANGES + REDUCES OXIDATIVE DAMAGE + REDUCES WRINKLES + TIGHTENS AND MOISTURIZES THE SKIN. THE POTENT ANTISEPTIC PROPERTIES OF VETIVER CALM THE MIND AND BALANCE HORMONAL DISORDERS. IT IMPROVES CIRCULATION AND TREATS UNDERLYING SKIN CONDITIONS. 
WILD HIMALAYAN CHERRY: ANTIOXIDANT, AIDS SKIN'S CELLULAR REGENERATION AND COMBATS AGING 
BLUE WATER LILY/BLUE LOTUS: IMPORTANT PLANT NUTRIENTS TO MOISTURIZE AND BALANCE THE SKIN'S NATURAL OILS, SOOTHE IRRITATION, & REGENERATE THE SKIN. 
JAVA FIG: ANTIOXIDATIVE AND ANTI COLLAGENASE EFFECT ON WRINKLED SKIN AND REDUCES THE PERCENTAGE OF WRINKLE DEPTH, DECREASED SKIN TRANS-EPIDERMAL WATER LOSS, AND SKIN SEBUM SIGNIFICANTLY 
INDIAN TRUMPET FLOWER: ANTIMICROBIAL, ANTIBACTERIAL, & ANTI-INFLAMMATORY PROPERTIES HELP DETOXIFY THE BLOOD, DEEPLY CLEANSES THE SKIN, AND AIDS IN WOUND HEALING 
YELLOW BERRIED NIGHTSHADE: THE KUSTHAHARA PROPERTY OF THIS HERB HOLDS HIGH VALUE IN TREATING SKIN DISEASES, HELPING IN WOUND HEALING AND PROMOTING SKIN HEALTH 
PRICKLY PEAR JUICE: ACTS AS ANTIOXIDANT COMPOUNDS AND NEUTRALIZE FREE RADICALS BEFORE THEY CAUSE HEALTHY CELLS TO MUTATE 
ALSO INCLUDES:
ROSE: HIBISCUS: CORNFLOWER: CHAMOMILE: CLOVES: SCHISANDRA BERRIES: TANSY: SAFFLOWER: LOTUS POLLENS: